Tue., Aug. 5, 2014, 4:48 p.m.
5 Young Owls Regain Freedom
The screech-like vocalization of a barn owl could send a predator leaping out of its pelt. But the frightening sounds failed to deter a small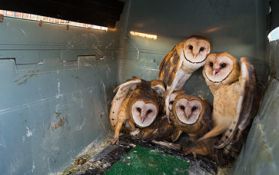 but determined and curious group of people who gathered Monday night to watch five of the owls released back into the wild. "We want to release them as close to dark as possible," because they are "extremely nocturnal," said Janie (Fink) Veltkamp, a North Idaho raptor biologist. They were released on private property near the intersection of Huetter and Mullan roads. It's also near where they were rescued in May, from beneath a tarp covering a stack of straw. The location provides the owls with great hunting opportunities, Veltkamp said/David Cole, Coeur d'Alene Press. More here. (Coeur d'Alene Press photo by Shawn Gust: A group of five barn owls, just a few months old, cower in the back of a crate before being released back into the wild)
Question: Did you grow up around owls?
---
---