Tue., Aug. 5, 2014, 8:22 a.m.
Davlin: Labrador's Gain, Idaho's Loss
By poaching veteran political reporter Dan Popkey from the Idaho Statesman to become his new press secretary, U.S. Rep. Raul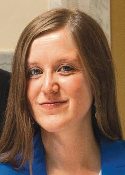 Labrador, R-Idaho, just eased a lot of stress for Idaho's congressional delegation. Take a look at all the stories written about Idaho's delegation from July 1-29, when the Statesman announced Popkey's resignation. Of the 30 articles and blog posts I counted that originated from Idaho media -- excluding editorials -- nearly half originated from Popkey himself (including, notably, articles about Labrador from the week before Popkey quit to join his team). Some of those were minor blog posts with press releases or campaign finance updates, But Popkey did the most original reporting with quotes from politicians about Idaho's congressmen. That's not to say Idaho's political journalists are slacking, but other reporters -- including us at "Idaho Reports" -- focus largely on state and local politics/Melissa Davlin, Idaho Reports. More here.
Question: Popkey's loss to journalism and Idaho was evident over the weekend when the Idaho GOP elected a new leader. Popkey would have been all over that story, providing context and background. That didn't happen. Oh well. Thoughts?
---
---