Tue., Aug. 5, 2014, 1:15 p.m.
Idaho GOP Searches For Top Exec
Steve Yates (pictured), who was elected party chairman at an Aug. 2 meeting, announced Tuesday morning that a search is underway for the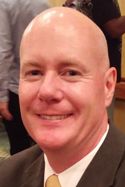 GOP's next executive director. "This full time position is extremely important," Yates said in a news release. "The executive director provides direct support to the chairman, facilitates communication with party members, and ensures smooth day to day operations at the party headquarters in Boise." Applications are due by Friday, Aug. 8. Resumes should be sent by email to Ann Rydalch at arydalch@msn.com, or by mail to 3824 E. 17th St., Idaho Falls, ID 83406. Interviews will be conducted next week/Idaho Statesman. More here.
Question: Izzit just me -- or does it seem that adults have reclaimed the Idaho GOP?
---
---