Tue., Aug. 5, 2014, 9 a.m.
Rep: Migrant Kids May Have Ebola
Rep. Todd Rokita (R-Ind.) on Monday suggested that unaccompanied children who have crossed illegally into the United States from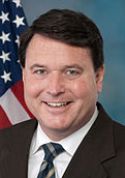 Central America might have Ebola, according to a report in The Times of Northwest Indiana. On WIBC-FM's "Garrison" radio show, the paper quoted Rokita referencing a recent conversation he had with Rep. Larry Bucshon (R-Ind.) in which they agreed the children could pose as a public health risk if they're placed in Americans' homes. "He said, look, we need to know just from a public-health standpoint, with Ebola circulating and everything else — no, that's my addition to it, not necessarily his — but he said we need to know the condition of these kids," Rokita was quoted as saying/The Hill. More here.
Question: Are you worried that migrant children from the southern border will bring deadly diseases into this country?
---
---