The injured dog rescued by firefighters and police two weeks ago from a ditch at a Post Falls park had to be euthanized during the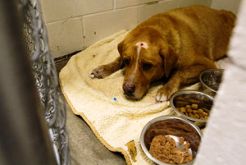 weekend, police said. Post Falls Police Capt. Greg McLean said a detective has been focusing solely on the case and abuse charges against the latest owner of the male Labrador mix are possible. "We're still trying to locate who could have dumped the dog," McLean said. "We're getting bits and pieces (of information) from kids all over the area and there's a lot of finger-pointing." The dog, given the nickname "Bridger" by Post Falls police, was rescued by Kootenai County Fire and Rescue and Post Falls police after being spotted as motionless and dehydrated by a pair of teenage hikers in a 6-foot-deep part of Corbin Ditch on July 21. He was taken to River City Animal Hospital/Brian Walker, Coeur d'Alene Press. More here.
Question: PFPD deserves props for the effort it made to save Bridger. Thoughts?
---
---