Tue., Aug. 5, 2014, 8:53 a.m.
WSU's Leach Gets $500K Pay Raise
As the on-field performance of the Washington State football team improves, so does its coaches' salary. WSU athletic director Bill Moos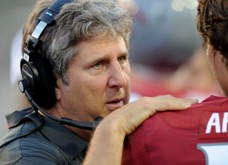 amended the contract for football coach Mike Leach to raise his annual media compensation from $100,000 per year to $600,000 per year, raising his total guaranteed annual compensation to $2.75 million. Additionally, Moos allocated another $500,000 into the pool for assistant coaching salaries. I spoke to Moos after today's practice and he told me that the pay bump comes from a desire to keep Leach's compensation near the top of the Pac-12. He also cited efforts by Washington and USC to hire defensive line coach Joe Salave'a over the offseason as a reason for the pay bump. Salave'a, who was initially paid $175,00 to coach at WSU, recently signed a personnel action form that will raise his salary to $275,000/Jacob Thorpe, SR. More here. (SR file photo)
Question: How would you like to get a large, unexpected pay raise? Or any pay raise, for that matter?
---
---