Wed., Aug. 6, 2014, 8:43 a.m.
Council OKs River Side Purchase
The Coeur d'Alene City Council approved funding Tuesday night to cover the cost of a 2-mile stretch of old railbed along the Spokane River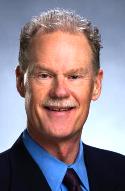 corridor. Last month, the council gave city staff permission to pursue the purchase of the property, and to develop alternatives for funding the purchase of the $2.5 million property. At the July meeting, City Attorney Mike Gridley (pictured) announced he had reached a favorable agreement with Burlington Northern Santa Fe Railroad to purchase the property. The property was appraised at $4.3 million last fall, but Idaho's congressional delegation was able to work with the city and the railroad to get the price down. At Tuesday's meeting, Gridley presented several options for funding the purchase, including using foregone taxes, tapping the city's rainy-day fund, using cash reserves in the city's utility fund or going for a bond election to pay for the property. First the council settled on splitting the cost of the railbed with the Lake City Development Corporation, which has previously agreed in principal to partner with the city/Jeff Selle, Coeur d'Alene Press. More here.
Question: Do you approve/disapprove of this deal?
---
---