Wed., Aug. 6, 2014, 8:57 a.m.
Don't Try This At Home
From Post Falls Police Dept Facebook: "Another anonymous call brought officers to a residence in Post Falls where there had been two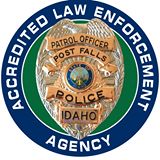 explosions. When officers got on scene they found the male resident had 1st and 2nd degree burns to his hands, neck and legs. The male was transported to the hospital for care. According to people in the house there was a can of hairspray left too close to a burning candle in the bathroom. After the initial explosion the male resident threw the burning items out of the window causing his burns. More here.
---
---