WEDNESDAY, AUG. 6, 2014, 2:17 P.M.
Nugent: Replace Non-Hunting Wives
Conservative rock star Ted Nugent was deputized by local law enforcement at a Tea Party event in Wyoming in which he complained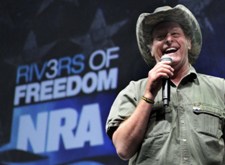 about America's alleged post-World War II decline and women who do not enjoy hunting, Media Matters reported. ... Nugent also accused hunters in Colorado of allowing "bureaucrats" to limit their Second Amendment rights, and challenged members of his audience to each "fix" 100 people and get them to vote for conservatives. "If I hear another hunter tell me, 'Man, I wish I could get my wife to support hunting,' fix your wife," Nugent said. "Fix her or replace her"/The Raw Story. More here. (AP file photo)
Question: Does your wife like to hunt?
---
---