Wed., Aug. 6, 2014, 4:51 p.m.
Nursing Moms Want Legal Protection
This week, mothers across the country are celebrating their right to breastfeed their children. Idaho ranked first nationwide last year when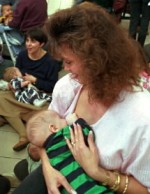 it came to the ratio of mothers who nurse. But, there are currently no laws about breastfeeding in public -- it's not prohibited, but it's also not protected. In fact, Idaho is one of just two states without laws supporting nursing mothers. It's something some local moms feel so passionately about, they wanted to celebrate World Breastfeeding Week with professional photos, feeding their babies. ShutterHappy Photography did sessions for several moms, like Lonnia Stephenson. "It's what I need to do as a mom for my child so I plan on continuing no matter what," said Stephenson. But Stephenson says she has experienced some criticism for feeding her child in public/KTVB. More here. (AP file photo for illustrative purposes)
Question: Do you agree/disagree that Idaho should enact a law that protects mothers nursing in public?
---
---