Wed., Aug. 6, 2014, 11:32 a.m.
Thieves Enjoy Tubbs Hill, Beach, Too
On the Coeur d'Alene Police Department Facebook page, Sgt. Christie Wood posts: "The Police Department has taken a few crime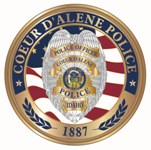 reports this summer from people who have left their personal items unattended while they were swimming off of Tubbs Hill or the City Beach. Please be aware that a thief will look for a crime of opportunity and take your items such as expensive cell phones, purses, and wallets if you leave them out in the open. Make plans in advance to leave a designated person with everyone's belongings and take turns being out in the water. Do not leave your items in a parked vehicle because we have also had reports of windows being shattered by burglars in order to steal your property. It is very stressful to return to your beach towel and realize your wallet and phone have been stolen. If this happens to you call the police department at 769-2320 to file a report.
Question: Have you ever had something stolen while you enjoyed the waterfront on one of North Idaho's lakes or rivers?
---
---