Thu., Aug. 7, 2014, 8:57 a.m.
Arpie: Ready To Teach History Basics
Arpie (RE: No Kootenai in Kootenai County): My fourth grade curriculum is pretty basic. I want the kids to know the names of native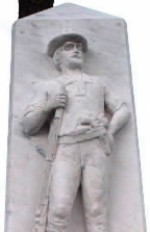 tribes in Idaho and where they are located. They'll make maps with flour and salt that will hopefully show the Snake River plain, the basin and range mountains, a blob of mountains in the center and lakes in the north. they'll know about Lewis&Clark, David Thompson (from whom Sandpoint gets its name), the Oregon Trail, timber, mining, missionaries-we'll make a trip to Cataldo- and state symbols-which will be pretty cool because I am actually mentioned in their history book (I must be old) as my class 16 years ago worked to get the huckleberry designated the state fruit. I'm not sure I'm qualified to lead, but I 'm good for a tidbit now and then like the one that started this thread. (SR file photo: Statue of trailblazers John Mullan in Post Falls)
Question: Anyone know why Capt. John Mullan is important to North Idaho?
---
---