Thu., Aug. 7, 2014, 5:01 p.m.
Hayden WM Customers Frighten Stein
In the American Spectator, conservative columnist Ben Stein, a regular visitor to Sandpoint, disses on Hayden WalMart: "On the way up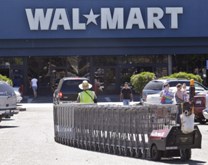 to Sandpoint, I realized that I had no flashlight in my Buick. I am super phobic about breaking down in the dark with no flashlight, so I stopped at the Walmart near Hayden Lake to buy one. As usual, the staff were incredibly helpful. But the other customers were terrifying. Not at all like the friendly folk at the Walmart near Sandpoint. These were enormous sallow men and women, grotesquely obese teenagers, horribly tattooed women in sun dresses at 10 PM. These were the Jukes and the Kallikaks. Their RV's were parked in the Walmart parking lot. Terrifying, especially in Walmart's ultra-bright jail line-up lights. By the time we got to our home, we were exhausted and mentally crushed from the trip and the sights at Walmart, Hayden Lake. More here. (AP file photo: generic WalMart sign for illustrative purposes)
Question: Is columnist Stein's description of the Hayden WalMart store accurate?
---
---