Thu., Aug. 7, 2014, 8:49 a.m.
Hunting The Elusive Huckleberry
It's mid-morning on a late July day. The sun has yet to blaze above, but it will. For now, the cool breeze is inviting and the smell of warm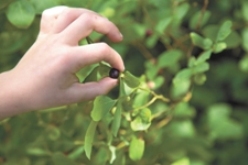 pine intoxicating. A cluster of cars has gathered at a trailhead on Mt. Spokane. Off in the low brush of woody, delicate shrubs, pickers of all ages are moving deftly along, collecting huckleberries in mini coolers, rinsed-out milk jugs and plastic bags. When you move to or visit the Inland Northwest, you are quickly initiated into huckleberry culture. From drive-throughs to fine dining, huckleberries feature prominently on menus in the summer months. The variety of huckleberry products available year-round at country markets and groceries is vast, if not a little obsessive. Tea, taffy, barbecue sauce, gummy candy, jams, jellies, syrups, all varieties of baked goods and even lip balm line shelves, providing huckleberry fans with accessibility to the popular and distinctively local berry any time of year. Becoming a huckleberry devotee takes little effort/Amy Miller-Krezelek, Inlander. More here. (Inlander photo: Adam Miller)
Question: When did you become a huckleberry devotee?
---
---