NW Tomatoes Taste Like Plastic?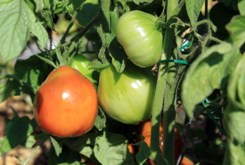 In today's Slice column: Moscow's Jane Hess offered this. "As a transplanted Jersey Girl, I will guarantee that the Garden State's tomatoes are the best in the nation. I have to say that Northwest tomatoes taste like plastic in comparison. As a kid, I loved a thick slice of salted beefsteak tomato between two slices of white bread slathered with mayo. Yum!" More here. (SR file photo)
Question: Plastic? Does Ms. Hess buy her Northwest tomatoes in a store? I eat few store-bought tomatoes -- and then gorge myself on home-grown ones in August-October. How about you? Do you remember the best tomato you have ever tasted?
---
---