Thu., Aug. 7, 2014, 3:36 p.m.
Search For Post Falls Man Continues
Update (from Kerri Thoreson): Thursday update on search for Scott: one of the close friends who's on the vigil boats just texted that the SONAR boat will search for another hour today as the wind is making the lake choppy this afternoon. The search will continue for a few hours Friday morning and then be suspended for the weekend due to increased boat traffic. When the search resumes on Monday, new equipment will be brought in.
The Kootenai County Sheriff's Office's sonar team planned to return to Lake Coeur d'Alene early today to resume the search for Gary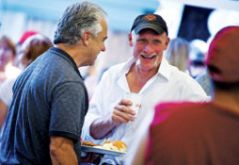 Scott "Scotty" Shawver. Shawver, 57, a well-known Post Falls body shop owner, has been missing since Saturday evening when he jumped from a boat into the lake near Stevens Point to reportedly retrieve a hat that had fallen into the water. Witnesses say the man was unable to make it back to the vessel. According to Lt. Stu Miller, the sheriff's office sonar boat was deployed for a total of 20 hours on Monday and Tuesday, scouring an area of the lake that was targeted using the GPS location taken from where the 911 call was made/Keith Cousins, Coeur d'Alene Press. More here. (File photo: Scott Shawver is shown at Post Falls community block party)
Thoughts?
---
---