Thu., Aug. 7, 2014, 11:48 a.m.
SR Seeks Arfee Shooting Documents
Following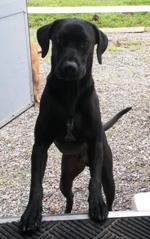 is a letter sent to City Attorney Mike Gridley of Coeur d'Alene re: his denial of SReporter Scott Maben's request for incident report by officer and all documentation into the controversial police shooting of pet black lab Arfee at Java on Sherman this summer. The request was made by our attorney Joel Hazel. It begins: "This letter constitutes a second request, valid as of today's date, for a copy of the incident report and all documents related to the July 9, 2014 shooting of the dog Arfee.' This request includes any account of the shooting written by any officer who witnessed the shooting as well as any witness statements related thereto." Complete request here.
Question: Do you want the city to provide the SR with the requested documents in this incident?
---
---