Fri., Aug. 8, 2014, 3:51 p.m.
$10K For DUI, Study Shows True Cost
A driving under the influence arrest affects more than a driver's criminal record. It can also put a dent in their bank account. In Pullman, a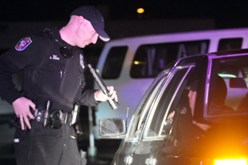 DUI conviction can cost a driver more than $10,000, according to a recent study by NerdWallet, a consumer-focused financial website. The study adds up the cost of the fine, attorney's fees, insurance increases and ignition interlock fees that a driver incurs after a DUI conviction. The study said a typical Washington driver will pay an extra $466 each year for insurance during the five years following a DUI conviction. That adds up to $2,334. Drivers in most cities will see more than a 50 percent increase in their car insurance premium after a single DUI. ... Then there's the fine. The minimum fine in Washington for a first-time offender with a blood alcohol content of less than .15 is $940.50. The maximum is $5,000. In 2013, the average fine imposed in Washington for all DUI convictions was $3,711/Anthony Kuipers, Moscow-Pullman Daily News. More here. (SR file photo, for illustrative purposes)
Question: Are you surprised at the true cost of a DUI?
---
---