FRIDAY, AUG. 8, 2014, 8:14 A.M.
Edit: Before Jon, There Was Joe
Kootenai Health is on a roll, adding a hundred or so good-paying jobs every year while expanding in quantity and quality of medical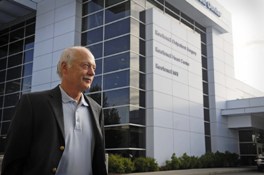 services. But the good times didn't start the moment Jon Ness arrived four years ago. That isn't our assessment, by the way. It's Jon's. Chatting after Tuesday's announcement that Kootenai Health is now a member of the most prestigious family in American medicine - that would be the Mayo family - Ness, the hospital's CEO, lauded the foundation built by his predecessor, Joe Morris. Ness and Paul Anderson, whose 17 years as a hospital trustee overlap 13 years of Morris's tenure, pointed out that under Morris's leadership, the hospital flourished as a debt-free institution. Under Morris, the hospital built a healthy cash reserve that would ensure its continued operation in the case of a disaster that could last up to a couple of years/Mike Patrick, Coeur d'Alene Press. More here. (SR file photo: Joe Morris before retirement in fall 2010)
Question: Did you ever work with Joe Morris?
---
---