Fri., Aug. 8, 2014, 4:53 p.m.
James Brady's Death Ruled Murder
The death this week of James S. Brady, the former White House press secretary, has been ruled a homicide nearly 33 years after he was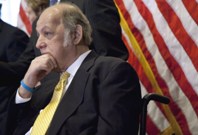 wounded in an assassination attempt on President Ronald Reagan, police department officials here said on Friday. Officials said the ruling was made by the medical examiner in Northern Virginia, where Mr. Brady died Monday at 73. The medical examiner's office would not comment on the cause and manner of Mr. Brady death. "We did do an autopsy on Mr. Brady, and that autopsy is complete," a spokeswoman said. The ruling could allow prosecutors in Washington, where Mr. Reagan and Mr. Brady were shot on March 31, 1981, by John W. Hinckley Jr., to reopen the case and charge Mr. Hinckley with murder/New York Times. More here. (2011 AP File Photo, of former Reagan press secretary James Brady)
Question: Do you agree/disagree with this ruling?
---
---