Fri., Aug. 8, 2014, 3:31 p.m.
My Turn: City Helps Burned Children
In a "My Turn' column today in the Coeur d'Alene Press, former SR co-worker Jeanne Helstrom discusses the recovery from burns of her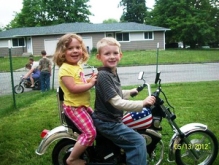 4YO granddaughter and the outpouring of community support for the girl and another injured child: "I have shared recently that my little 4-year-old great-granddaughter and her 8-year-old next door neighbor boy were badly burned in a backyard fire. Both were airlifted from our local emergency room to a burn center more than 400 miles away from home. Our little girl spent four weeks to the day in the burn center, receiving many types of treatment for her burns which covered her arms and legs, and part of her face, including a single skin graft, which was successful. Her little friend is still hospitalized and may be for several more weeks. There is a lot to their rehab and recovery. His burns were worse and he had more extensive grafting. The parents have stayed there with them, so there have accumulated a myriad of expenses for both families. More here. (Courtesy photo, of Joshua Emerson, 8, and Brooklyne White)
Question: Have you or your family been helped by a community effort in North Idaho?
---
---