Fri., Aug. 8, 2014, 1:13 p.m.
Not All Washington Scandals Alike
Sen. John Walsh (D-Mont.) plagiarized hefty chunks of a paper he submitted for his master's degree. Rep. Scott DesJarlais (R-Tenn.) had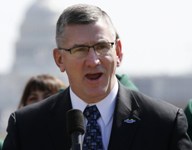 extramarital affairs with patients and was exposed as a hypocrite on abortion. Which is worse? We'll leave the moral debate to you. But politically, there's no doubt that Walsh's sin was much more damaging. He was forced to end his campaign on Thursday -- the same day DesJarlais went before Republican primary voters and may just survive by the skin of his teeth. Even if he doesn't -- the vote is still being tallied, with DesJarlais up 35 votes -- the fact that he nearly won would still be telling. So, why are the two things so different? Because specifics matter/Sean Sullivan, Washington Post. More here. (AP file photo)
Question: Have you been following either of these congressional scandals?
---
---