Fri., Aug. 8, 2014, 9:07 a.m.
Visiting Rabbis Find Us Welcoming
Rabbis Berel Bendet and Levi Dubov say they're having a delightful time traveling North Idaho and meeting its residents. And, no doubt,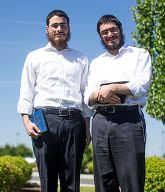 those who get to meet the two from the Chabad Rabbinical Visitation Program during their tour of Idaho are enjoying Bendet and Dubov as well. "Idaho is, in general, a very welcoming and warm place," said Dubov. "It's not like in the East where everybody is a bit snappy." Bendet said the Coeur d'Alene-Post Falls community has been very open and welcoming. "That's something we found very, very pleasant, and it's a beautiful thing to see," Bendet said. "It even broke our stereotypes." Many of the non-Jews they meet are exited to have them in town. "They're very interested in what we're doing," Bendet said. "It's nice to see"/David Cole, Coeur d'Alene Press. More here.
Question: I enjoy seeing and hearing people from other countries and nationalities along the waterfront. How about you?
---
---