Mon., Aug. 11, 2014, 1:01 p.m.
Buffalo Wild Wings Opens Next Month
"Wings, beer and sports" is the motto of Buffalo Wild Wings, which plans to open Sept. 1 in new spaces at 407 W. Neider Ave. (Super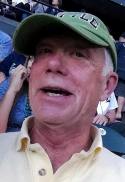 Supplements Mall off Highway 95). The place will seat 216 customers at tables, the bar and patio with 65 big-screen TVs and take-out. The menu includes hand-spun traditional and boneless wings with 22 sauces and seasonings, salads, flatbreads, wraps, beefy burgers, many shareables, 36 beers on tap, 30-plus in bottles, wine, spirits and bottomless lemonades and limeades. Named "Buffalo" after its sought-recipe source in Buffalo, N.Y., and "Wild" for its many sauces, the company began in 1982 in Kent, Ohio, and now has 1,030 locations in all 50 states and 17 internationally. Key people here are managers Dave Marquardt and Kyra Siroshton, with about 150 employees. The new location opens at 11 a.m. daily, closing at 2 a.m. Monday through Saturday and midnight Sundays/Nils Rosdahl, Business Bits, Coeur d'Alene Press. More here.
Question: Are you a Buffalo Wild Wings fan?
---
---