Mon., Aug. 11, 2014, 3:20 p.m.
Will Lazy Risch Coast To Win?
Senator Jim Risch, Governor C.L. "Butch" Otter, and Representative Raul Labrador all remain favorites to win re-election given the heavy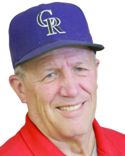 Republican bent of the Idaho electorate. Risch and Otter though are showing evidence of an ability to lose their race. Though recent polling shows each with a double-digit lead, the polls also indicate the proverbial mile wide but inch deep support. A Risch upset would be especially surprising whereas few would be surprised if Governor Otter's bid for a third term was rejected by an electorate that recognizes he has done virtually nothing to warrant it. Risch's problem remains his arrogance and, candidly, his laziness/Chris Carlson, Carlson Chronicles. More here.
Question: Are you satisfied with U.S. Sen. Jim Risch's performance in Washington?
---
---