Tue., Aug. 12, 2014, 9:11 a.m.
Dog Shooting Still Irks Web Activists
Anonymous, a group founded in 2003 by loosely organized international activists, released a second video during the weekend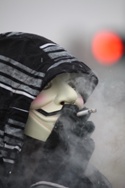 condemning the shooting of a black Lab by a Coeur d'Alene Police Department officer. The investigation into the July 9 shooting, which is being conducted by the Coeur d'Alene Police Department, is "not acceptable" according to the group. Arfee, the 2-year-old black Lab that was shot in the parking lot of Java on Sherman, was owned by Craig Jones, a resident of Colorado. "Anonymous nor the citizens of Idaho and many others affected by this via internationally reported incident, will not stand by idly," the video states. The video continues by stating that the group is prepared to start "phase two" of its "Justice for Arfee" campaign/Keith Cousins, Coeur d'Alene Press. More here. (File Photo: Duane Rasmussen)
Thoughts?
---
---