Tue., Aug. 12, 2014, 11:38 a.m.
Hanging Claimed Comedian Williams
Investigators in California said today Oscar-winning actor Robin Williams was a suicide by hanging: He was found dead in his bedroom,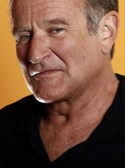 clothed, slightly suspended in a seated position with a belt around his neck, with one end wedged between a closet door frame. At a press conference today, Lt. Keith Boyd, assistant chief deputy coroner for Marin County, Calif., said rigor mortis had already set in. Williams was found by his personal assistant, who broke in to his room Monday morning when he failed to respond to knocks. She was distraught in the 911 call and indicated Williams' death was a suicide by hanging. Williams' wife last saw him at about 10:30 pm the night before; she left the house Monday around 10:30 am thinking he was still asleep in his room/USA Today. More here. (AP file photo)
Thoughts?
---
---