Tue., Aug. 12, 2014, 1:17 p.m.
Host: Michelle Obama Too Chubby
A member of Fox News' "Medical A-Team" argued that Michelle Obama is not a credible voice on school nutrition because "she needs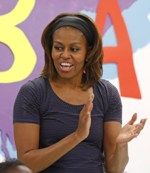 to drop a few" pounds. First Lady Michelle Obama has made fighting childhood obesity a cornerstone of her time in the White House. Recently, she's faced backlash from conservatives seeking to put an end to one of Obama's victories: federal school lunch standards that emphasize healthy eating. The hosts of Fox News' Outnumbered continued this fight on August 12, when Dr. Keith Ablow, a prominent member of the network's "Medical A-Team," claimed that Obama cannot be taken seriously on the issue of nutrition because she "needs to lose a few" pounds. Ablow's female co-hosts expressed surprise and quickly changed the subject/Media Matters for America. More here. (AP file photo)
Seriously?
---
---