Tue., Aug. 12, 2014, 1:03 p.m.
Lawmaker Reacts To Williams' Suicide
Rep. Tim Murphy on Tuesday called for action on mental health reform in response to the death of actor Robin Williams. "Perhaps Robin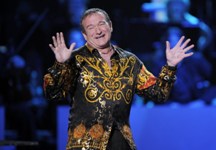 Williams' greatest gift to us, if we choose to accept it, is a focused determination to help those with brain illness and finally take real action to stop the loss of one more precious life," Murphy (R-Pa.) said in a statement. Law enforcement officials on Tuesday said the late actor committed suicide, though the final determination will be made by a coroner in Marin County, Calif., where the actor lived. The actor's death has put a spotlight on mental illness and prompted conversations about rising rates of suicide around the country/The Hill. More here. (AP file photo)
Question: And there are those who don't think North Idaho needs a mental health center? Seriously?
---
---