TUESDAY, AUG. 12, 2014, 9:02 A.M.
Megaload Passes Moscow w/o Incident
The megaload haul containing a huge piece of equipment used to refine crude oil left its resting spot off U.S. Highway 95 Monday evening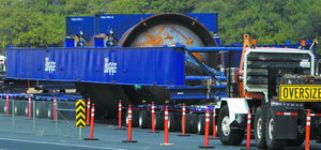 and resumed its path north, passing through downtown Moscow on the way to a point south of Plummer. Dozens of protesters and onlookers from the Moscow-based environmental group Wild Idaho Rising Tide demonstrated against the transport at Third and Washington streets as it passed through shortly before midnight without incident. City police officers were much in evidence, as well as City Councilors Wayne Krauss and Walter Steed. Protesters unfurled large banners protesting the megaloads and the tar sands oil, which the equipment is intended to process. Cass Davis, from Moscow, said if people knew of the destruction caused by this sort of oil extraction there would be more people out protesting/Terry Harber, Moscow-Pullman Daily News. More here.
Question: Why do you suppose there has been little to no protest re: megaloads in Coeur d'Alene area?
---
---