Tue., Aug. 12, 2014, 9:17 a.m.
Rathdrum Pit Bull Kills Poodle
Chet Edelblute awoke to screaming Saturday morning. By the time he made it outside to his front porch, the neighbor's pit bull had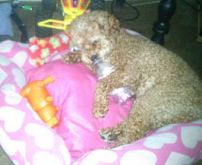 attacked and killed his family's toy poodle, Cinnamon, as Edelblute's 15-year-old daughter stood just feet away. "All I heard was my daughter screaming bloody murder," Edelblute said. "She was yelling, 'The pit bull is killing my dog!'" Rathdrum police impounded the pit bull and issued a vicious dog citation to its owner, Jacob Casey. The pit bull is being quarantined at Kootenai Humane Society, Police Chief Kevin Fuhr said, and will likely be euthanized. It was the second time police have responded to an attack involving Casey's pit bull. In April, Rathdrum police responded to Casey's Stevens Street home after the pit bull dug under the fence and attacked another neighbor's small dog/Taryn Thompson, Coeur d'Alene Press. More here. (Courtesy photo via Coeur d'Alene Press)
Thoughts?
---
---