TUESDAY, AUG. 12, 2014, 8:36 A.M.
Red: How Transplants Took Control
Red Cedar (RE: Stage Left: Newbies don't understand): Then came the "Californians" -- the wave of conservative refugees from the big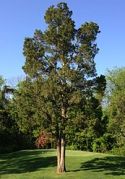 cities that had been taken over by stridently-leftist Democrats. These people, as near as I can tell, came to Idaho and Western Montana not just with money (usually from selling their houses) but with a cowboy-movie fantasy that they were going to find a refuge amongst like-minded folks. The worst of them were the racists who thought that because everyone around them was white, they all wanted a white homeland -- they mistook the traditional North Idaho rural tolerance of weirdos for overt support of their ideology. Most weren't nearly that bad, but many of the ones I met surely were more religious, more concerned about "moral" issues, and more suspicious of government than the locals. Much more here.
Question: How much does the strength of Evangelical churches in the area contribute to the strength of the dominant Tea-publican wing of the GOP in North Idaho?
---
---