Wed., Aug. 13, 2014, 10:53 a.m.
Celebrate Your Right To Be Left
Lefties, today is your day! Aug. 13 marks the 21st annual International Left-Handers Day. Throughout the year, lefties, like me, are dealt a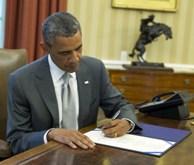 rough hand. We're forced to put up with items such as doors, scissors and computer keyboards — to name a few — that are crafted for right-handers. But today we unite! According to lefthandersday.com, International Left-Handers Day was first celebrated in 1992 as an opportunity for left-handers everywhere to celebrate their uniqueness in "Lefty Zones" and increase public awareness of the "struggles left-handers are forced to deal with on a day-to-day basis." Right-handers are encouraged to do everything left-handed for the day/Drew Thomas, USA Today. More here. (AP File Photo: Southpaw President Barack Obama is shown signing legislation earlier this month)
Question: No one in my immediate family, including my 5 siblings are lefthanded (although I have a nephew who is somewhat ambidextrous). How about you? Any southpaws in your fam unit?
---
---