Wed., Aug. 13, 2014, 9:03 a.m.
Constitutionalists Reject Guv Pick
Two months after the Idaho Republican Party's state convention ended in a dispute over party leadership, the Constitution Party of Idaho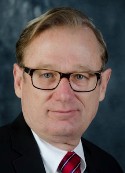 went one better by rejecting its own gubernatorial candidate. At the party's recent state convention in Cascade, delegates voted against endorsing Steve Pankey (pictured in campaign Web site photo) for governor. Pankey, 63, describes himself as a celibate, born-again Christian and Idaho's first openly gay gubernatorial candidate. He lives in Shoshone and has his own property management business, managing commercial properties in Idaho and California. He ran for Lincoln County sheriff as a Constitution Party candidate in 2008, then ran for lieutenant governor as a Republican in 2010. He shifted back to the Constitution Party earlier this year when he filed to run for governor/William Spence, Lewiston Tribune. More here.
Question: Do you think this is an unabashed attempt by the Idaho Constitution Party to gain attention by out-doing Idaho GOP crazy?
---
---