Wed., Aug. 13, 2014, 3:43 p.m.
Johnson: Try To Remember
Marc Johnson/The Johnson Post is amazed at the short attention span in this country. This post was triggered by 2 important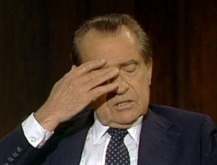 anniversaries that passed almost unnoticed, including Richard Nixon's resignation 40 years ago: "Our short attention span is illustrated by how easily and quickly we jump from crisis to crisis, news story to scandal on a daily, hourly, Twitter-influenced schedule. It can be enough to make your head pivot. Today it's the sad story of Robin Williams or the glamorous life of Lauren Bacall. Day before we armed the Kurds. The day before that it was Ebola, or maybe another rocket attack or, wait, didn't that Malaysian airliner go down in Ukraine, or was that the Indian Ocean? Let's impeach Obama for doing too much and then criticize him for not doing enough. An unarmed young black man is shot and killed. Hasn't that happened before? Did the president speak or is he playing golf? Or did I misremember?' Full post here. (AP File Photo)
Question: Why have we lost our collective attention span?
---
---