Wed., Aug. 13, 2014, 8:39 a.m.
Lauren Bacall, 89, RIP
Lauren Bacall, the smoky-voiced movie legend who taught Humphrey Bogart how to whistle in "To Have and Have Not," has died at the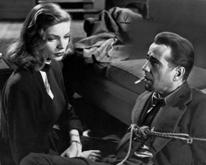 age of 89, according to her family. Details of the location and the cause of her death were not immediately available. Her death was confirmed by Robbert de Klerk, the co-managing partner of the Humphrey Bogart Estate. Her daughter, Leslie Bogart, said no other information was available. Bacall launched her career with the 1944 film that turned "Bogie and Bacall" into one of Hollywood's legendary couples on screen and off. She was born Betty Joan Perske on Sept. 16, 1924, in New York/Los Angeles Times. More here. (AP File Photo: Bogie & Bacall in "The Big Sleep")
Also: YouTube of Bertie Higgins' "Key Largo" song, which contains the line: "We had it all/Just like Bogey and Bacall."
Question: Which old-time actress did you admire most?
---
---