WEDNESDAY, AUG. 13, 2014, 10:07 A.M.
Patty Duke Discusses Williams' Death
The impact of Robin Williams' death can be felt around the world, as fans mourn the loss of one of our nation's favorite entertainers. In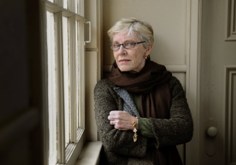 North Idaho, the actress who rose to fame as Patty Duke can relate to Williams and his battle with mental illness in the spotlight. "It's a gray day, in more ways than one," says Anna Pearce, which is Patty Duke's legal name. Visiting her home in Hayden is like visiting your favorite aunt. She makes you smile and feel at ease and you almost forget you're in the company of Hollywood royalty. Looking back at clips from her incredible career, you see the smile and success. She won an Academy Award at 16 and played the two starring roles in the Patty Duke Show. But, the actress was hiding the demons inside/Melissa Luck, KXLY. More here. (2011 SR File Photo, of Patty Duke)
Question: Have you ever read Patty Duke's book, "Call Me Anna"?
---
---