Wed., Aug. 13, 2014, 10:13 a.m.
Pitbull To Be Euthanized After Attack
A pitbull attack in Rathdrum has left a dog dead and the aggressor in quarantine at the Kootenai Humane Society. The incident happened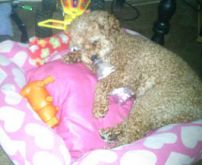 Saturday morning in the 15000 block of North Stevens. Tessied Edelblute took her dog Simon outside around 9 a.m. and won't forget what happened next. "She was like wait, no it might not be a good idea to go up on the porch so she stayed down on the grass and she looked at my like you stay up there, you're safe. I'm going and I then just watched it happen. 12 seconds," Edelblute said. Tessie watched as her toy poodle Simon was viciously attacked by their neighbor's pitbull after it escaped through the back door. "It latched on to my dog and I'm like huh, what do I do now," she said. Tessie yelled for her father and the two found Simon nearly ripped in half and after being drug to the neighbor's front porch/Alec LaFriec, KXLY. More here.
Question: Should the pitbull involved in the deadly Rathdrum attack be put down?
---
---