Wed., Aug. 13, 2014, 8:48 a.m.
Vestal: In Praise Of The Corndog
If there is any food more estranged from this culinary moment than the corn dog, it would be hard to find. The corn dog is not local and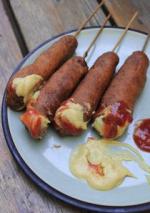 organic. It is not, usually, hand-crafted and artisanal. There is nothing farm-to-table about the corn dog – though there's plenty that is nose-to-tail – and you absolutely should not sprinkle it with a chili salt or drizzle it with an infused oil. Salty, greasy, fried, processed, packaged, cheap, convenient, probably carcinogenic: the corn dog is the archenemy of the superfood. As such, it seems like something that should be made and served by someone else. A fair vendor, ideally, but also a lunch lady. In a pinch, you can heat a frozen one in your oven. But as for actually making one from scratch? By hand, sort of? What in the world for? It seems like a fool's errand. I was that fool. Call me Corn Doggy Dog/Shawn Vestal, SR. More here. (SR Photo: Adriana Janovich)
Question: I love corndogs. But I don't eat them, for obvious reasons. How about you?
---
---