Thu., Aug. 14, 2014, 3:23 p.m.
The Day I Met Robin Williams
At Writing North Idaho, author Elizabeth S. Brinton of Coeur d'Alene, tells of meeting budding comedian Robin Williams in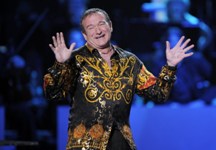 1976 at a Colorado nightclub where she worked: "I arrived at the club early and checked in with my friend who worked in the office. He said the guys were setting up backstage. Remembering I had left my black, high-heeled boots there earlier in the day, I thought I could sneak in unobserved and retrieve them. I pushed the curtain aside and reached down to pick them up, almost bumping in to a handsome young man in wearing a long sleeved tee shirt, suspenders and khakis. "I'm sorry to disturb you. I just came to get my boots." I put out my hand and introduced myself. "I'm Robin," he replied. "I was going to use those in my act." He took one boot from my hand and put it on like and evening glove. As soon as he started making jokes, I thought the week might be looking up after all. More here. (AP file photo)
Question: Anyone out there meet Robin Williams in person?
---
---