Thu., Aug. 14, 2014, 4:23 p.m.
IFF: Court Sides With Abuse Of Power
Let's suppose for a moment that your neighbors are in trouble. For whatever reason, they've fallen on rough times and can't pay their bills.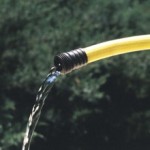 Things are so tough that they've even missed payments to the city water department, prompting the government to disconnect service. Could you help them? Doing so couldn't possibly be considered illegal, could it? In fact, it can, as Michael Freitas of Spirit Lake found out. A Spirit Lake officer noticed Feritas had connected a hose to an outside spigot, and that hose connected to his neighbor's home, whose water service had been turned off because of non-payment. The officer issued a warning to Freitas: City law says "it shall be unlawful for any person to … permit connection or delivery of water to third persons for use within a residence or other building not otherwise provided with water service." Freitas figured he was doing nothing wrong. After all, he was providing water that had gone through his meter; he had paid for it. The city disagreed, fining him $500. Freitas fought the fine/Wayne Hoffman, Idaho Freedom Foundation. More here. (Illustration: Idaho Freedom Foundation)
Question: The Idaho Court of Appeals sided with the city of Spirit Lake. Do you agree or disagree with that decision?
---
---