Thu., Aug. 14, 2014, 3:42 p.m.
It's Hard To Look Cool On A Bicycle
Every time I ride my bike, I think of the old lady in the movie Wizard of Oz. Maybe it is my basket that does it to me? There just doesn't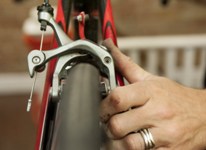 seem to be anyway to look cool on a bike. I have seen a lot of people of all ages ... be it male or female. And we do not look good .... not that we look bad.. but maybe it is just not cool ... The only people that I see, that look good on a bike is ... kids. Especially boys. Girls don't really look cool either. Boys ride with authority, be it a mission at the high speed that their legs go like pistons, or just coasting along talking to their friends. They even seem the right portion for a bike. Adults don't really look right. They don't look at ease/Cis, Simple Mind. More here. (SR file photo, for illustrative purposes)
Question: Do you agree/disagree with Simple Mind -- that it's hard to look cool while riding a bike?
---
---