Thu., Aug. 14, 2014, 8:55 a.m.
Silver: Treasurer Crane 'Did It'
Deborah Silver, a Democratic Party candidate for Idaho Treasurer, promises no limousines, no gas cards and no $20 million cover-ups.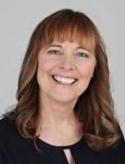 Silver, of Twin Falls, decided to get into the race after reading newspaper reports about incumbent Republican Idaho Treasurer Ron Crane reportedly losing approximately $20 million of taxpayer money. She pointed to a 2013 legislative audit report that noted Crane overrode internal controls - in place to contain financial risks - and inappropriately transferred investments, resulting in the loss of state funds. "The audit report just made my head explode," Silver told The Press in an interview Monday. She is campaigning in North Idaho. "For accountants, there are things in there that you don't like to ever hear," Silver said. "'Management override of controls' -- it's huge, (it) means the boss did it"/David Cole, Coeur d'Alene Press. More here. (Photo: Deborah Silver campaign Web site)
Question: Are you paying attention to this race -- and the various messes that state Treasurer Ron Crane has stepped in?
---
---