Tue., Aug. 19, 2014, 2:27 p.m.
George Hansen — Flawed Giant
Idaho has produced its share of congressional mavericks – folks who because of their character and style, were colorful and quotable. In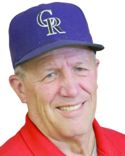 the language of the time, they were "good copy." Senator Glen Taylor, the "Singing Cowboy," who reported for duty in 1944 by riding a horse up the Capitol steps all decked out in his cowboy regalia, stands out. His autobiography also is remarkable for its candor. The first chapters cover his work as a youth in a north Idaho house of ill-repute and his loss of his virginity therein. If any other Idaho political figure could match Taylor for generating questionable publicity, and being a character, it has to be Second District Congressman George V. Hansen, who passed away last week at the age of 83. "Big George" stood six foot six and weighed two ninety-five (Yes, think of the hit song from the 60's, Big John). His ego and ambition matched his size. His flair for publicity included a one-man mission to Tehran to try to free the American hostages/Chris Carlson, The Carlson Chronicles. More here.
---
---