TUESDAY, AUG. 19, 2014, 1:01 P.M.
People Watching
I enjoy people watching. At airports. On Sherman Avenue. In Portland. Where I spent my recent, short vacay. And there's no better place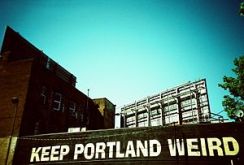 to people watch than a Hawthorne District Street Fair. Son-in-law Okie Doke and I spent a half hour Saturday trying to teach me the difference among hippies and hipsters (which come in "cool," "cute," "grunge" and "sports," among other varieties. The grunge kind are heavy into black clothes and unconventional shades of blue, pink, orange, green hair among other shades. Hipster cool guys wears those shades in terms of shorts with short-brimmed hats. It appeared as though matching clothes is a no-no, unless it involves the same colors top and bottom. Cowboy boots are a nice accessory in the female hipster cute universe. Then there are buff hipsters in workout clothes. Nothing, however, compared to the "Uni Piper," a hipster favorite who received rare applause from the street fair crowd when he appeared on a uni-cycle, playing bagpipes, in a kilt. Did I mention that he was wearing a Darth Vader mask? Sometimes, I think, Portlanders try to hard to be weird. But they're fun to be around -- in small doses/DFO. (Photo: Wikipedia)
Question: Where do you like to people watch?
---
---