Tue., Aug. 19, 2014, 9:01 a.m.
Stove Maker Opposes Stricter Rules
Proposed federal regulations that would require new wood stoves to burn cleaner are under attack from manufacturers, who say the new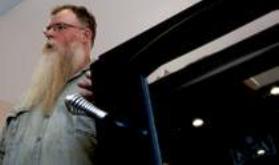 pollution limits are too strict. "I'm all for clean air," said Mark Freeman (pictured), owner of Kuma Stoves Inc. in Rathdrum. But, "just because you can make a stove that clean, should you?" On Monday, he found a sympathetic ear in U.S. Sen. Mike Crapo, R-Idaho, who stopped at the plant during a tour of North Idaho. Crapo, who is running for re-election in 2016, said the U.S. Environmental Protection Agency hasn't provided scientific justification for the proposed change. About 11 million U.S. households burn wood for heat, according to federal statistics. Wood smoke from residential stoves is a significant source of air pollution in some parts of the country, particularly affecting children and the elderly, according to the EPA/Becky Kramer, SR. More here. (SR photo: Kathy Plonka)
Question: Do you heat with a wood stove?
---
---