Tue., Aug. 19, 2014, 1:15 p.m.
On The Waterfront — 8.19.14
I spotted two Hagadone Corp employees dead-heading the red geraniums on the front lawn of the Coeur d'Alene Resort during my humid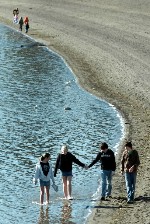 noon walk along Coeur d'Alene's viewtiful waterfront during the noon hour. That's the secret to the vibrant, summer-long colors of the resort's favorite flower, you know. Dead-heading. Workers were dead-heading the geraniums mid-week last week. Which is a reminder to you and me to do likewise in our own gardens. Elsewhere, 150-160 peeps at McEuen Park, most centered in the playground/splash pad area. But there were also some folks at the Harbor House snacking on hotdogs. Two women were practicing yoga under the trees along the big green space at the west end of the park. City Beach was moderately full, with two packs of chaperoned kids moving toward it when I did my lap around City Park just before 1 p.m. Best bargain of the day? $2 huckleberry lemonade offered at the Tiki Hut at the 1st Street waterfront parking lot/DFO.
---
---