Tue., Aug. 19, 2014, 10:23 a.m.
Yates: We Can Work It Out
New Idaho GOP Chairman Steve Yates has been starting from scratch at the Idaho GOP office, where the last remaining employee when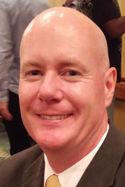 he took over – recently hired party Executive Director Judy Gowen, who was brought in by former Chairman Barry Peterson – left shortly after the Aug. 2 meeting at which Yates was elected chairman. "She seemed to be a very qualified and good person," Yates said of Gowen, former political director for Sen. Russ Fulcher's unsuccessful primary challenge to GOP Gov. Butch Otter. "I had a conversation with her very soon after the Aug. 2 meeting, and she let me know that she preferred to go back to school. She did not seek to be a candidate for executive director going forward." Yates said he's made a selection for a new executive director and is just awaiting executive committee approval/Betsy Russell, Eye on Boise. More here.
Question: At this point, how much do you care whether the warring factions of the Idaho Republican Party kiss & make up?
---
---