Wed., Aug. 20, 2014, 2:42 p.m.
Crapo's Message To Labrador
Republican Senator Mike Crapo, and his political advisors, lost little time this past week in reading and reacting to First District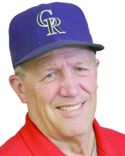 Congressman Raul Labrador's hiring of Idaho Statesman ace political reporter Dan Popkey as his press secretary. Some pundits speculated the move indicated Labrador was contemplating a possible run for the United States Senate. The next Senate election is in two years with Senator Crapo presumably standing for re-election to a fourth term, but there has been additional speculation that Crapo might retire and stay in D.C. to earn some big bucks like his former Senate colleague, Dirk Kempthorne. The message to Labrador was unequivocally clear: "If you think this is going to be an open seat you can just waltz into, you're whistling past the graveyard"/Chris Carlson, The Carlson Chronicles. More here.
Question: Do you think Labrador could beat Sen. Crapo in a 2016 U.S. Senate race?
---
---