Wed., Aug. 20, 2014, 3:53 p.m.
Elephant Poo Produces Pricey Coffee
I s#&% you not: The world's most expensive coffee is now being produced in Thailand's Golden Triangle, a region better known for another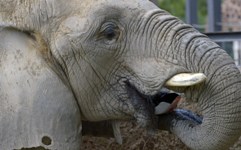 high-priced, if illegal, export: opium. Canadian entrepreneur Blake Dinkin, 44, is betting his life savings he can turn his idea into, well, gold. Here's the catch: His Black Ivory Coffee is made by passing coffee beans through the not insubstantial stomachs of elephants and then picking the beans out of, well, yeah, that. It's similar to Kopi Luwak, the civet coffee that was all the rage a few years back; Dinkin has just supersized the idea. He knows Kopi Luwak's image has been trashed because of concerns over counterfeiting, disease and animal abuse. But he insists there's nothing fake — or frivolous — about Black Ivory Coffee/Michael Sullivan, Boise State Public Radio. More here. (AP file photo for illustrative purposes)
Question: Would you drink a cup of Black Ivory Coffee, made from beans found in elephant poo?
---
---